Theater of the Sea parrot training interns work alongside staff members to feed and care for several different species of parrots from lorikeets to hyacinth macaws.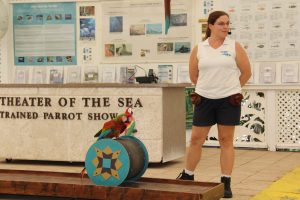 Interns are trained to assist with food preparation, exhibit upkeep, shows and programs, and animal feeds through observation, discussion and participation with employees. Interns will be assigned reading materials, which on completion will be given several written quizzes to evaluate the progress.
Interns work a four day, twenty nine hours a week schedule, over a minimum of a three month duration. Interns are paid minimum wage.
University accreditation for completion of the internship program is common and must be coordinated by the student through their school. Theater of the Sea will provide validation of participation upon completion.
Questions can be addressed to the parrot department supervisor at parrots@theaterofthesea.com.