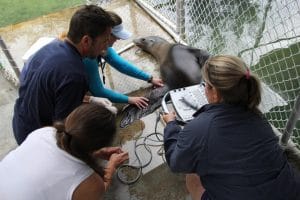 Theater of the Sea Veterinary Program interns are responsible for assisting with the technical work and administrative details of the veterinary care program for Theater of the Sea facility animals, including cetaceans, pinnipeds, fish, sea turtles, crocodilians, raptors, and small mammals.
Interns are trained to assist in collecting and processing diagnostic samples, conducting in house laboratory analysis, maintaining current organized medical records, filing, distributing and administering medications and treatment plans as prescribed, maintaining pharmacy, equipment and supply inventories, cleaning laboratory equipment and areas, and assisting in emergency medical procedures and routine physical examinations.
Interns work a four day, twenty nine hours a week schedule, over a minimum of a three month duration. Interns are paid minimum wage.
University accreditation for completion of the internship program is common and must be coordinated by you through your school. Theater of the Sea will provide validation of participation upon completion.
Questions can be addressed to the internship coordinator at animalcare@theaterofthesea.com.