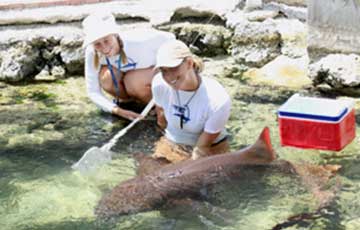 Nurse Sharks
Theater of the Sea houses baby, juvenile and adult nurse sharks (Ginglymostoma cirratum). This species is easily recognized by their reddish-brown color and fang-like barbels. The Fish and Reptile Tour includes shark feeding demonstrations.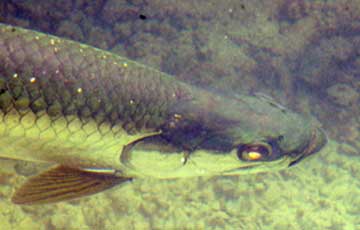 Sport & Game Fish
Theater of the Sea displays a variety of sport and game fish that are native to the Florida Keys, including tarpon, bonefish, redfish, snook, snapper, grouper, jacks and sheepshead. Learn more about these fish as they are fed and discussed on the Fish and Reptile Tour.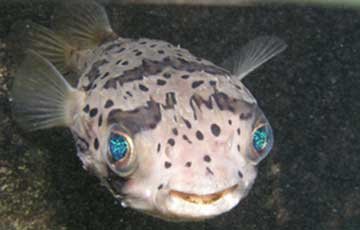 Tropical Reef Fish
Theater of the Sea's coral rock substrate provides a natural habitat for many species of tropical fish found along the waters of the Florida Keys, including parrot fish, trigger fish, puffer fish, pork fish, tangs, file fish and more! You'll learn interesting facts about each species on our Fish and Reptile Tour.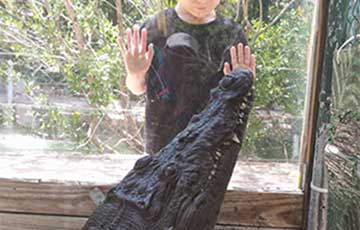 Crocodilians
Theater of the Sea is home to two American alligators (Alligator mississipiensis) and one Cuban-American crocodile (Crocodylus acutus). You can learn about the differences between crocodiles and alligators and have the opportunity to observe a training session during the Fish and Reptile Tour.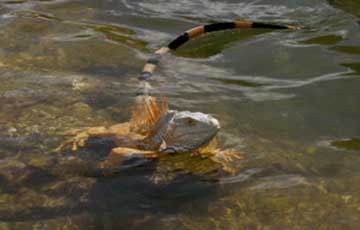 Iguana
Iguanas are an invasive species in the Florida Keys. They're believed to be the result of intentional release into the wild and have proliferated over the past decade. Theater of the Sea displays an adult male Green iguana that was donated to the park by a responsible pet owner.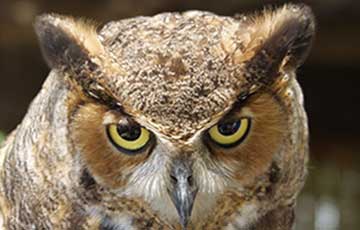 Birds of Prey
Theater of the Sea is home to a Great Horned Owl (Bubo virginianus) that was deemed non-releasable due to human imprinting. You can learn more about their exceptional eye sight, silent stealth, and interesting facts during the Fish and Reptile Tour.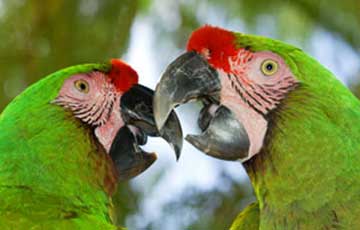 Parrots
Theater of the Sea houses a wide variety of parrot species found around the world, from large macaws and cockatoos to smaller Amazon and African grey parrots. Many of the parrots have been donated by private owners seeking permanent placement for these loud and long-lived pets.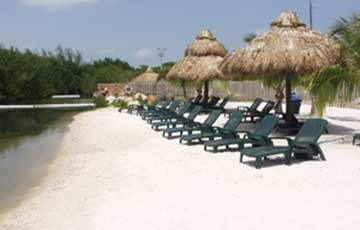 Lagoon Beach
General admission to the park includes access to our private lagoon-side beach where guests can relax, sunbathe, swim, and snorkel with tropical fish. Freshwater showers, and changing rooms, are available for use, and snacks can be purchased. No lifeguard is on duty. The beach is open daily from 11:00 a.m. to 4:00 p.m.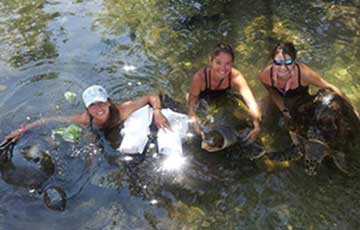 Sea Turtles
Theater of the Sea is home to four different species of endangered sea turtles: Green (Chelonia mydas), Loggerhead (Caretta caretta), Kemp's Ridley (Lepidochelys kempii), and Hawksbill (Eretmochelys imbricata). Each of the sea turtles on display are considered non-releasable for different reasons, including birth defects, buoyancy disorders, boat strikes, entanglement injuries, and predatory attacks. All sea turtles have an assigned primary caregiver, are hand fed a specific diet, participate in daily training and enrichment sessions, and receive routine veterinary care.