Theater of the Sea Animal Care and Training interns work alongside animal care staff to feed and care for dolphins, sea lions, sea turtles, tropical fish, sharks, stingrays, and marine invertebrates.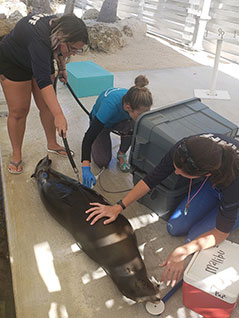 Interns are trained to assist with exhibit upkeep, shows and programs, fish preparation, and animal feeds through observation, discussion, and participation with employees and by completing assigned reading materials. They are given several written quizzes to evaluate their progress and knowledge of protocols.
During peak season, interns may be required to assist in registration or photography departments.
Interns work a four day, twenty nine hours a week schedule, over a minimum of a three month duration. Interns are paid minimum wage.
University accreditation for completion of the internship program is common and must be coordinated by the student through their school. Theater of the Sea will provide validation of participation upon completion.
Requirements:
Enrolled in college or have a degree in a related major
At least 18 years of age
Preferred SCUBA certification
Questions can be addressed to the internship coordinator at animalcare@theaterofthesea.com.