The requirements, restrictions and policies found on this page apply only to our animal interaction programs, not general admission.
Age Requirements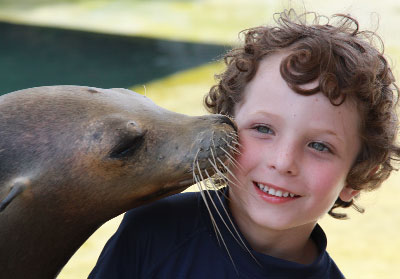 No minimum age requirement for Wade with the Dolphin. Minimum age 3 for dolphin/sea lion paint. Minimum age 5 for all other programs.
A parent or appointed guardian is required to be a paying participant with any child age 7 and younger for all in-water programs (dolphin swim, dolphin wade, sea lion swim, ray swim, shark swim).
Note: Young children may need to be held by an adult during participation due to their height and abilities.
Minors under 18 years of age:
Liability waivers must be signed by a parent or appointed guardian prior to participation.
For all in-water programs (dolphin swim, dolphin wade, sea lion swim, ray swim, and shark swim) any appointed guardian must provide notarized documentation of guardianship or the form must be accompanied by a copy of the driver's license. We can provide a form upon request.
Note: Young children may need to be held by an adult during participation due to their height and abilities.
---
Restrictions
Participants MUST NOT:
have contact with any

wild

marine mammal within 48 hours of participation to avoid disease transmission to our animals.
be pregnant if participating in the dolphin swim, dolphin wade, and sea lion swim.
Participants SHOULD:
be capable of and willing to participate in the program and be a competent swimmer for swim programs (15 feet of water) …trainers oversee interactions from out of the water and cannot personally attend to individuals.
understand English or have a translator.
Theater of the Sea is home to a colony of abandoned cats. If you have aversions or allergies, please take appropriate measures.
The marine animals live in natural ocean water not a chlorinated pool.
We cannot guarantee that everyone in a party will be in the same pool for dolphin swim/wade; group size varies based on animal housing. On the day of the program upon meeting the trainers, dolphin swimmers and waders in the same party can request to do their program in the same pool and we will accommodate if possible. .
Please inform the reservationist of any special requests, needs, and/or medical conditions so that we may prepare for your participation.
---
Programs Include
Programs include admission to dolphin, sea lion and parrot shows, fish and reptile tour, nature tour, bottomless boat ride, and lagoon- side beach. Allow 2.5 hours before or after your program to see the shows. The ticket counter is open daily from 9:30 AM to 3:30 EST.
Snorkel gear for swim programs is provided. Fins are required. Masks and snorkels are optional. Life jackets can be worn if needed. Wetsuits can be rented here if desired.
Changing rooms, outdoor showers, and lockers are available. Locks can be rented for a $10.00 refundable deposit.
Soda machines and a snack bar/grill are on the grounds. Grill hours are 10:00 AM to 4:00 PM.
Bring Your Own
Swimming attire
Towel
Water shoes – These can be worn for the dolphin wade and if desired, instead of fins for parts of the sea lion, ray, and shark swims, but we do not provide them.
Environmentally friendly insect repellent and mineral based sunscreen (zinc or titanium dioxide)…if needed these are available in our gift shop.
---
Reservations
Reservations are accepted online, by phone, or in person (not by email) and are recommended in advance.
Office and Reservations Hours 10:00 AM to 5:00 PM EST.
Payment with VISA, MasterCard, American Express, or Discover is required to make a reservation.
Discounts
Coupons are for general admission and observers only, not animal interaction programs.
---
Cancellation and Refunds
Program cost is refundable only if the program is cancelled at least 7 days prior to the date of scheduled participation.
Participants must be here by check in time or the booking will be cancelled.
Programs are not cancelled due to cold or inclement weather. Participants must be here for trainers to determine cancellation or postponement due to lightning.
Animal participation is optional and although rare, sometimes an animal may choose not to do a session. In this situation, the participant will be accommodated in some way.
Refunds will NOT be issued for patrons who are too cold, scared of animals or the water, change their mind, or otherwise choose not to participate.
We reserve the right to cancel or amend program content and price without notice.