Theater of the Sea is home to many animals that have been rescued, rehabilitated, and deemed non-releasable for a variety of reasons. This includes dolphins, sea lions, sea turtles, crocodilians and raptors. These animals often require specialized long-term care and treatment that is funded through patronage alone. Each rescued animal has a special story and serves an important role in educating the public about the many natural and human-imposed threats to their wild counterparts.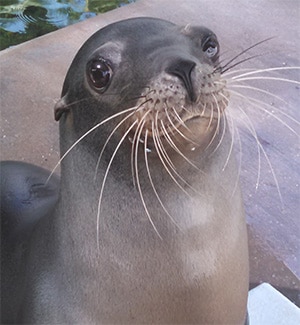 Bella
Bella is a young, female California sea lion (Zalophus californianus) who stranded on a California beach as a pup and was rescued and rehabilitated by the Marine Mammal Care Center in San Pedro, California. The National Marine Fisheries Service later determined that Bella was non-releasable due to a neurological condition affecting her cerebellum that causes her to constantly weave her head. In October 2009, Bella was flown on a Fed Ex plane from LAX to Miami, Florida and was then driven to Theater of the Sea. She is thriving here and she lives with a group of other sea lions, including a female her same age.
Malibu & Monica
Malibu and Monica stranded during the Unusual Mortality Event that has resulted in emaciated, dehydrated, and underweight California sea lions stranding along the California coastline since January 2013. Both animals were rescued and rehabilitated by the Marine Mammal Care Center in San Pedro, California.
Malibu stranded on Malibu Beach. She was deemed non-releasable due to her affinity toward people and intense desire to seek them out.
Monica stranded on Santa Monica Beach. She was rehabilitated and released. Unfortunately, she stranded again four weeks later having lost all the weight she had gained at the rehabilitation center. Monica was deemed non-releasable, as she had proven that she was not suitable for the wild.
Malibu and Monica arrived at Theater of the Sea on Jan 5th, 2016 and have integrated well with our resident sea lions.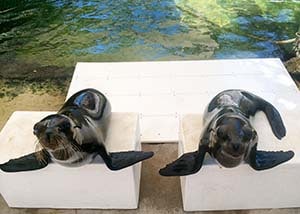 Aphrodite
Aphrodite is a female Green sea turtle (Chelonia mydas) who was found stranded on Conch Reef in Key Largo, September 10, 1991, when she was only about the size of a dinner plate. She was entangled in fishing line. By the time she was found, gangrene had already begun to set in so her flippers had to be amputated in order to save her life. Theater of the Sea provided her with a permanent home and has watched her grown to nearly 300 pounds over the past 20 years. She plays an important role in educating guests about the dangers of marine debris.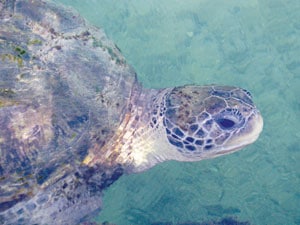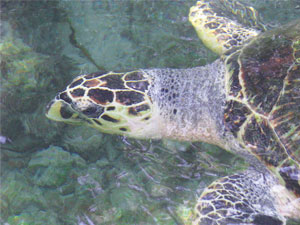 Christmas
Christmas is a juvenile Hawksbill sea turtle (Eretmochelys imbricata) who was found stranded near Sugarloaf Key on December 25, 2006. She was taken to the Hidden Harbor Turtle Hospital (HHTH) where she was diagnosed with a buoyancy disorder that caused her to float awkwardly at the surface of the water. The staff at the HHTH attached lead weights to her shell to help balance her out. However, due to her small size, Christmas was deemed non-releasable since her weights would require frequent adjustments as she continued to grow. Theater of the Sea agreed to provide a permanent home for Christmas, and on August 9, 2007 she arrived at the park. Since then she has adapted well and eagerly participates in training and enrichment sessions alongside her pool mates.
Jahna
Jahna is adult female Green sea turtle (Chelonia mydas) who was rescued from the beaches of St. Croix in the U.S. Virgin Islands on September 8, 2003. After going ashore to lay her nest of eggs, Jahna was viciously attacked by a pack of feral dogs. Since sea turtles can't retract their head and flippers into their shell, the dogs did extensive damage to her flippers, neck and eyes. She underwent surgery for her injuries, but sadly her eyes could not be repaired and had to be removed, leaving her completely blind. Jahna underwent months of rehabilitation at the HHTH before Theater of the Sea took her in on January 14, 2004. Despite her visual handicap, Jahna is thriving by relying on her senses of hearing and touch. She responds to the source of underwater sound cues which alert her that food is available, and guides herself around the pool's edge through touch and mentally mapping landmarks in her habitat. Jahna is a calm, gentle sea turtle with an inspiring will to survive, and is a shining example of how animals can overcome disabilities just like people.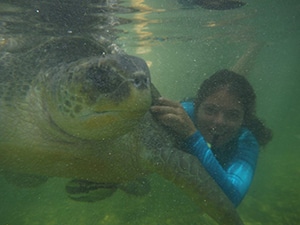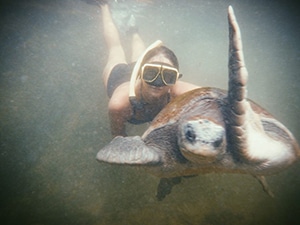 Henry
My name is Henry. I am a Green Sea Turtle (Chelonia mydas). Theater of the Sea has been my home since 1999. I am a very friendly turtle and mosey over to trainers as soon as I see them. I love lots of attention, basking in the sun, and will eat just about anything. I especially love to gobble down all of my veggies. My trainers call me the Hungry-Hungry hippo because I'm always munching on something!
Theater of the Sea houses 3 rescued crocodilians. We utilize training and enrichment with our crocodilians, which:
• shows our guests the true nature of these amazing creatures.
• gives a deeper understanding into their personality.
• helps dispel the negative view the public has about reptiles.
• reduces aggression.
• makes habitat upkeep easier.
• creates positive relationships between the animals and care givers.
• facilitates better husbandry practices.
• provides physical and mental stimulation.
Piper
Piper is a young male American alligator (Alligator mississippiensis) who was rescued from an unsuitable home in Colorado by Dr. Kevin Fitzgerald of Animal Planet. He was relocated to Theater of the Sea in June 2008 when he was just 4 pounds.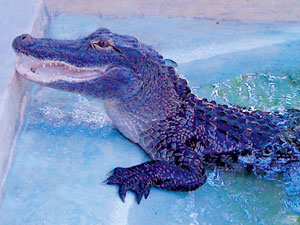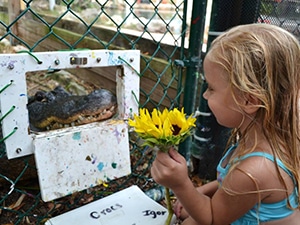 Alley
Alley is an adult female American alligator (Alligator mississippiensis). Theater of the Sea offered to give her a home in 1995 when the owners of a tee shirt shop who had raised her as a pet could no longer care for her as she reached adulthood.
Igor
Igor is a juvenile male American and Cuban hybrid crocodile (Crocodylus acutus). He was struck by a boat propeller which left his tail severely damaged. Although completely healed, he cannot be released because he is a hybrid. He was cared for by the Miami Metrozoo until he was moved to Theater of the Sea in July 2008.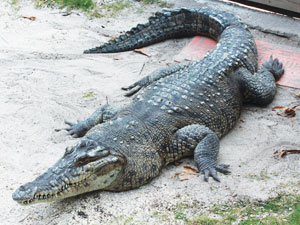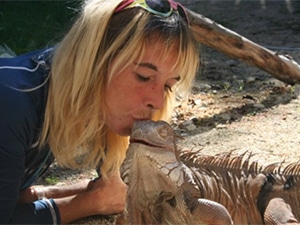 Gunther
Gunther is a large male Green Iguana (Iguana iguana). He was raised as someone's pet until he outgrew that home, at which point his owner donated him to a zoo where he was soon displaced by other male iguanas. Theater of the Sea was contacted about providing him a permanent place to live and agreed to take him in. He is as friendly as a pet dog, allows staff members to pick him up, and enjoys being petted and sprayed with a water bottle.
Iguanas are very popular in the pet trade. Unfortunately, this is their downfall. They are often not cared for properly and will either die within a year, long before their normal lifespan of 20 years, be taken to reptile rescue groups, or be released into the wild. This is how they found their way into the Florida Keys. They are an invasive species in Florida which means their numbers have increased rapidly and they are detrimental to the growth of indigenous plants and displace native animals.